Receive FREE 4 Pack of Pre-Filters On Your ONLINE Order

1-800-626-0664
Welding Fume Extractor
About Our Activated Carbon + HEPA Filtration System
Activated carbon is widely recognized as the safest, most effective way to treat odors and chemicals, while HEPA (High Efficiency Particle Air) filters are the gold standard for removing particles. Together they provide the most complete and versatile air cleaning system available.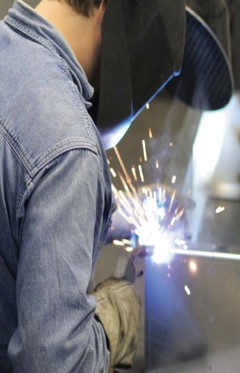 About "Activated" Carbon
Carbon that is 'activated' undergoes a process that opens up millions of tiny pores and fissures to enhance the material's adsorbent properties. The process creates a very large internal surface area, which is key to the power of activated carbon - the more surface area - the more the carbon can adsorb. Only one pound of activated carbon typically has a surface area of 125 acres. Activated carbon is so effective that it's used in military gas masks.
About HEPA Filters
HEPA stands for high efficiency particulate air filter and describes a filter that can remove at least 99.97% of airborne particles 0.3 microns in diameter. Particles of this size are used to evaluate the performance of a filter because they are among the most difficult to remove. However, particles that are larger or smaller than 0.3 microns can be filtered with even greater efficiency due to the nature of the filter's design. True HEPA filters are composed of a dense web of fibers designed to trap particles. This type of filter was first used in the 1940's to trap radioactive contaminants in the air and protect scientists who were developing the first nuclear weapons. Today, HEPA is considered the safest and most efficient method to treat airborne particles.
Fume Extractor LD 450 - Light Duty, Intermittent Welding
Light Duty, Intermittent Welding
40 lb. refillable carbon canister
2" HEPA; 2" pre-filter
1" stainless steel spark arrestor
400 SFM; 115V; 60 Hz
Option: Available in 230V
4" X 6' articulated flex arm
2" nylon wheels for easy maneuverability
Welding and grinding dust tray
Dimensions: 22.5" X 16" X 29"; Weight: Approximately 176 lbs.
Amps: 1.85 at 115
Ideal for:
Tig and arc welding operations
Soldering
Light manufacturing
Light plastic welding
Fume Extractor LD 450
$3950.98 USD (Arm included)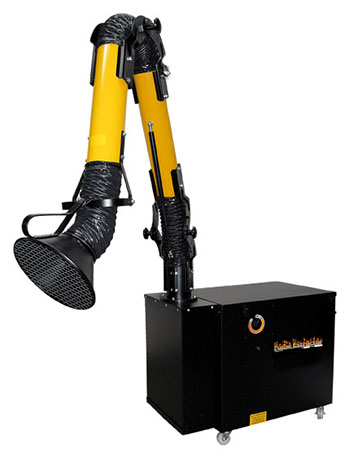 © 1996-2016 Produits D'Air Espitech, SENC ( Espitech Air Products) All Rights Reserved. All pages and their content are provided as information only. Use of this online service is subject to the disclaimer and the terms and conditions.