Receive FREE 4 Pack of Pre-Filters On Your ONLINE Order

1-800-626-0664

AirMedic Pro 6 Series
The AirMedic Pro 6 Series combines the most trusted air filters with AllerAir's proven filtration system. These powerful air purifiers offer the largest activated carbon filters in the same small footprint, removing chemicals and odors quickly and efficiently in your space.
The specialized models in this series include Exec options for general purpose filtration and those suffering from allergies and asthma, Vocarb options for enhanced chemical and odor control, and S(moke) units to remove tobacco smoke and odors.
The air purifiers boast 23 to 39 pounds of activated carbon filters and high efficiency particle filters as well as variable speed control. Popular options include UV germicidal filtration, custom carbon blends and more.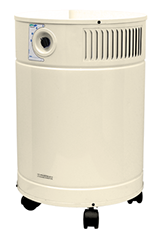 AirMedic Pro 6 UltraS, from $1199.98 USD


© 1996-2016 Produits D'Air Espitech, SENC ( Espitech Air Products) All Rights Reserved. All pages and their content are provided as information only. Use of this online service is subject to the disclaimer and the terms and conditions.