Receive FREE 4 Pack of Pre-Filters On Your ONLINE Order

1-800-626-0664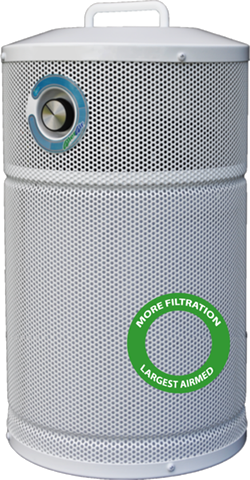 AirMed 1 Supreme MG
AirMed 1 Supreme MG Exec : $359.98 USD
AirMed 1 Supreme MG Vocarb : $409.98 USD
Carbon Blend : Exec vs. Vocarb?
Purifier for Small Rooms/Kitchens in Your Home or Office
Advanced cleaning in small spaces at home, office and wherever you may travel. Great for closets or small kitchens and rooms.
The AirMed 1 MG Supreme is a step up from the our regular AirMed 1 MG model. However if you are seeking even more powerful air cleaning power for larger rooms, then be sure to look around in our most popular models that are available in the AirMedic Pro 5 series.
The AirMed 1 Supreme MG is a tough air purifier that works very well as a compact and travel air filtration unit packed with 7 pounds of activated carbon, removes 99.97% of all airborne particles 0.3 microns in size. A powerful air cleaner for purifying the air and removing chemicals, odors and particles wherever you go.
If you travel often and want to make sure that your hotel room has clean air then this unit is the best travel companion ever. Great for smaller rooms or kitchens. This unit has extra chemical and odor protection in a convenient portable format. Great for cleansing and improving the indoor air quality in your office.


© 1996-2016 Produits D'Air Espitech, SENC ( Espitech Air Products) All Rights Reserved. All pages and their content are provided as information only. Use of this online service is subject to the disclaimer and the terms and conditions.